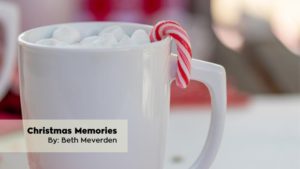 There's just something about the sights and smells of Christmas that floats childhood memories to the front of our minds. When I think about my childhood Christmases, I think about family get-togethers, even in big snowstorms, and sitting in front of our big radiator drinking hot chocolate, eating cookies, and listening to Christmas records after decorating our Christmas tree. There are some not-so-great memories, but they have to do with my selfishness and I have so many wonderful memories that the negative memories are pushed to the back of my mind.
What are some of your favorite memories of Christmas as a child or teen?
If we don't…
Interestingly enough, our children's fun Christmas memories are dependent on us. If we don't buy enough flour ahead of time, there aren't ingredients to make Christmas sugar cookies. And it's on us when we miss out on that memory-making time. 
If we don't make the hot chocolate and pick a night to drive around and see Christmas lights, it won't happen. 
If we don't teach our children Christmas carols, they won't learn them, especially not in school anymore.
If we don't make time to read them the real Christmas story, they won't know what Christmas is all about and that is part of us discipling our children to know, love, and share Jesus. 
So what gifts are you going to give your children this year, you know the gifts that they'll tuck away in their lifelong memories? What are the things you want your children to remember about Christmas?
Who are the faces you want them to connect with their childhood? Get time with those people on your calendar and make those times special.
What smells do you want to trigger happy memories? Buy those ingredients ahead of time and get them ready. Have those smells wafting when they come home from school!
What are the things you want your children, like Mary, to keep in their hearts about Jesus and His birthday?
All who heard the shepherds' story were astonished, but Mary kept all these things in her heart and thought about them often.  Luke 2:18-19
Things to Ponder:
What are some traditions you don't want to forget about making time for this Christmas?

What is something special you can do this year to create a new Christmas memory?